Web Design Portfolio
I provide web-design services including logo and graphic design. I focus on creating clean designs that are easy to use and understand. View some samples of my work and contact me if you would like to discuss your web-design needs.
Content-based Sites
Sierra Vista Real Estate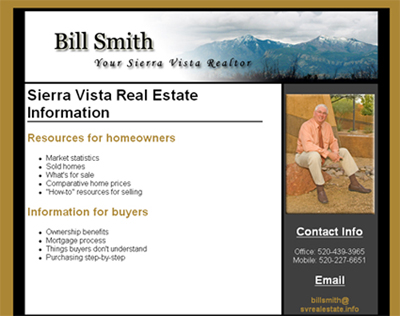 Bill Smith is a realtor in Sierra Vista, Arizona. His site has resources for both buyers and homeowners in the area.
See his site at SVRealEstate.info
Product-based Sites
Mr. Me Creations
Becky Edmundson creates jewelry and other items from fused glass. She also does wire-wrap and beadwork.
See her site at MrMeCreations.com